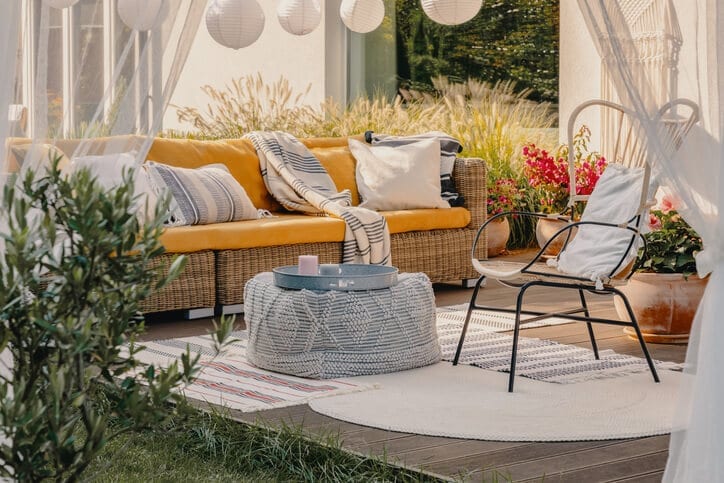 15 May

7 Quick Home Projects to Revive Your Outdoor Space

Summer weather is here, and spoiler alert: it's best experienced outside. For some, that means a trip to the mountains or the beach to enjoy the sun and the breeze. If you're a homeowner, though, you may not have to go farther than your own backyard.

Whether you have a patio, porch, deck, firepit, or gazebo, these easy instructions will help you get your outdoor areas looking their best so you can enjoy them all summer long.

Outdoor cushions covers are subject to rain, pollen, sap, prolonged sunshine, and some pets love to lay on them (and even chew on them). If they are looking dirty or worn or smelling musty, take them off the cushions for a little TLC.

Most cushion covers do fine in the washing machine, but if you'd not subject your washer to that level of dirt, just scrub them with soapy water and rinse them with the hose. Hang them out to dry to preserve colors and prevent shrinkage.
Deep Clean Outdoor Furniture
Rain may wash off some pollen and debris, but over time grime and filth build-up on outdoor surfaces. Wipe everything down with a rag, sponge, or soft brush if appropriate, and rinse anything that's dirty.

Don't give your wicker furniture a pass, either: go over the piece with a sponge and warm soapy water, the rinse with a garden hose to clean the nooks and crannies. Add vinegar to the soapy mixture if mold is present.
Outdoor rugs are usually durable and low-maintenance, but a quick vacuum and a rinse with a hose will bring back its original color and remove odors, pet hair, and dirt. Let the rug dry in a sunny spot to avoid that soggy feeling. This is particularly important if the rug typically stays in the shade where it never gets the chance to full dry.
Pressure Wash Hard Surfaces
Pressure washers are cheap to rent and easy to use. Their powerful spray blasts away years of grime, transforming patios, paths, and driveways made of stone or concrete. To give flagstones that always-wet look, roll on some clear sealant after they've been cleaned and dried.
Bring a fresh new look and a fun splash of color with a new coat of paint. The front door should be your first priority, but if you spend a lot of time on the back deck or patio, don't neglect the rear entrances.

Stick to the actual door, though. If you've got a storm door or screen door, keep its color neutral (or the color of the trim).

Repair Damaged Window Screens
Keep your windows looking great—and keep the bugs out—by inspecting and fixing your screens. It's inexpensive and straightforward to do it yourself, but if you'd rather have an experienced hand perform the work, any contractor or handyman can do it for you.
If you're lucky, your grill sees frequent use during the summer. Take some time to deep clean your cooking setup–it will cook more efficiently and last longer if you do. Home Depot offers step-by-step instructions for cleaning any type of grill.